Nous sommes certainement les derniers à le dire mais les Geek Faëries ont bel et bien eu lieu et ça s'est très bien passé !
Deux journées très chaudes et une nuit d'orage limite catastrophique ont perduré la réputation de ce WE de juin et celle des Geek Faëries.
Vous fûtes plus de 4000, parfait pour une petite IRL entre amis XD. Vous avez, par vos nombreuses qualités, séduit les gens de notre nouveau port d'attache qui s'attendaient à voir arriver des meutes de barbares en furie. Les commerçants sont ravis et c'est avec un sourire bienheureux qu'ils se sont endormis fatigués le dimanche soir.
Concernant notre équipe, nous avons terminé de rapatrier notre matériel le mercredi soir. C'est donc pour nous et notre équipe (avec des variables selon les emplois du temps de chacun), 8 jours de travail et pas plus de 3 heures de sommeil par nuit.  Un mois de déménagement et deux ans de travail pour les orgas. Nous n'avons pas compté nos heures, nous avons courbé l'échine et rechigné à aucune tache, nous avons mangé des pâtes et économisé sur tout pour arriver à ce résultat et nous en sommes fiers.
Désormais, nous pouvons nous présenter la tête haute, avec la fierté d'avoir créé quelque chose de nouveau, tourné vers l'humain et tout ce qu'il a de bon. Nous n'aurons  plus à encaisser les coups sans rien dire car par tout cela nous avons gagné notre liberté d'agir et d'entreprendre.
L'avenir des Geek Faëries s'annonce au beau fixe avec enfin la possibilité de travailler sur des décors épiques, améliorer les conditions de chaque pôle, créer des animations supplémentaires, faire encore plus de place pour des créateurs. Tout ça dans le but bien entendu de pouvoir vous accueillir encore plus nombreux tout en gardant intacte cette fête qui est la vôtre et la nôtre.
Financièrement, nous sommes à l'équilibre. Nous avons remboursé nos dettes. Le combat pour l'argent n'est toutefois pas terminé car nous n'avons pas d'argent d'avance et les On The Web ne s'autofinancent pas encore. Nous travaillons actuellement à trouver de l'aide financière et logistique.
Encore une fois tout cela n'aurait pas eu lieu sans vous et vous savez ce que ces mots signifient aux Geek Faëries.
La mairie et nos châtelains nous ayant affirmé publiquement tout leur soutien, c'est avec une grande jubilation que nous avons le plaisir de vous annoncer que les Geek Faëries auront lieu le 5, 6 et 7 juin 2015 au Château de Selles sur Cher.
Vous pouvez donc commencer à préparer vos bagages, réserver votre hôtel/camping, votre train, votre covoiturage et poser vos congés ;)
Merci à tous d'être ce que vous êtes, merci pour les bisous, les câlins tout au long du WE. Merci pour le grand câlin de fin. On se retrouve en janvier pour les GF On The Web et d'ici là, soyez libres, pensez par vous mêmes et gardez à l'esprit que demain toute la planète sera geek et nous l'espérons sera moins con. Notre grand plan de domination du monde attendra bientôt son but. MOUAHAHAH ! (enfin sauf si les chats ne sont pas d'accord ;) )
BE GLORIOUS ! BE GEEK !
Plein de détails very soon dans une prochaine vidéo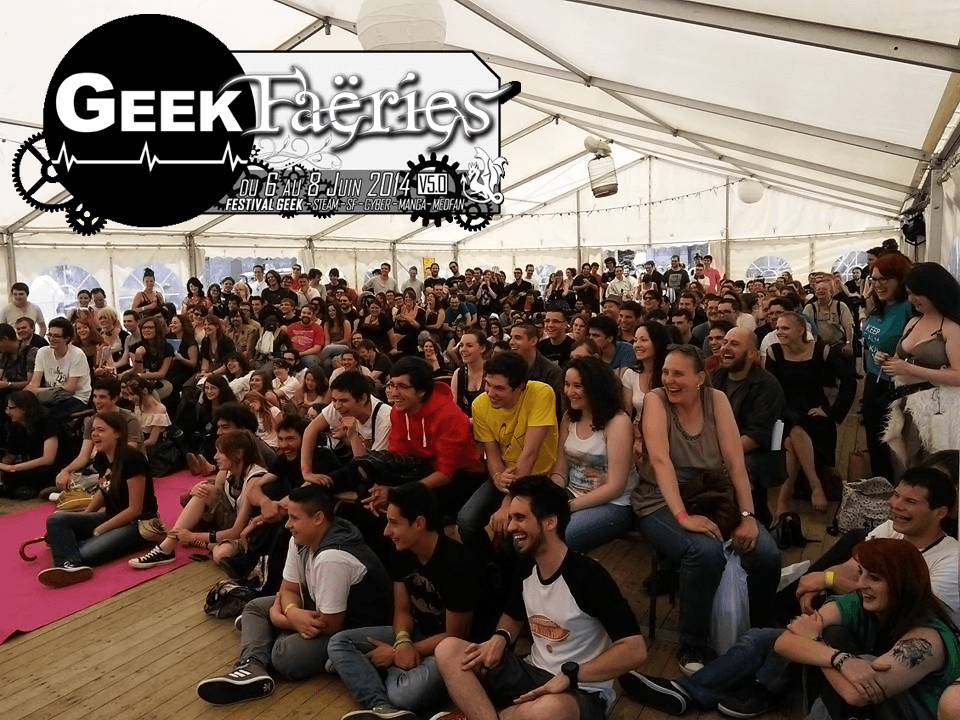 Photo de Fab, responsable de la Grande Tente Acule